Begin with one of my very favorite actors...

Pay tribute to one of his best characters...

Mix in another phenomenal actor....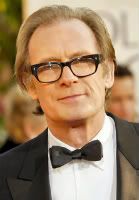 Sprinkle in these moves...
Garnish with a variety of other extremely likable people who are all fantastically styled...

Mix with a
Richard Curtis
screenplay (no need for 100% historical accuracy, right?) and serve to a fantastic
soundtrack
that'll have you humming and tapping your feet for two hours. What do you have?